Introduction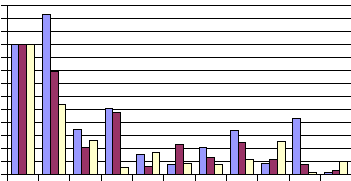 Harmometer is a program for measuring the harmonics of tones. Knowing the amplitudes of the harmonics of a sound gives you insight into the characteristics of the sound. The graph here shows an example of the harmonics of three notes on a cello. Please take a look at the manual for more information. Below you can download Harmometer, which is free for non-commercial use. The source code is also available. The program is available in executable form for Windows. It can also be compiled on Linux and other systems with an ANSI C++ compiler.
Manual — contains all the details
News
1/13/06 — Harmometer 1.0 released
Download
To use this software or documentation, you must agree to the license. You can find it in the manual.
Comments and questions are welcome. E-mail address: contact delete-this-before-sending _AT_ vobarian.com (Obviously, delete the extraneous words and replace _AT_ with @. This is to reduce spam.)
Mountains & clouds at top of page (clouds.jpg) taken from photo by Oswald Skene / DHD Multimedia Gallery
©2009 Chad Berchek - everything here unless otherwise noted